Looking to return or exhange?
30 days to fall in love...or 14 if you bought us in a cheeky sale.
At Freerider Co. we offer you 30 days to test-drive our products for non-sale items. That's 720 hours, or 43,200 minutes, or 2,592,000 seconds. Either way, it's definitely enough time to realise you can't live without us!
If you were super lucky to snap up an item in one of our very rare sale events, you have 14 days to decide if it's love at first site.
Sometimes it's not meant to be...
If you don't love your Freerider Co. purchase, we're happy to accept undamaged goods in their original condition for a full refund or exchange. We unfortunately cannot offer exchanges on items bought on sale.
Returns once recived back to us can take 1-2 weeks to be processed. A full refund will be made back to the card the purchase was made with.
*Please note the returns postage is the responsibility of the customer.
Start a return or exchange
If you need some assistance with tying your sling, check out our tutorials page.
Or get in touch with our expert team at support@freeriderco.com
Gift Exchanges
Freerider Co. gift exchanges are available within 30 days of purchase. Simply drop us a line at support@freeriderco.com and we'll get that sorted for you.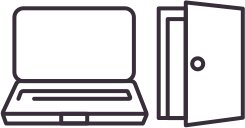 Retailer Returns
If you purchased Freerider Co. products from a retailer and don't love them, please contact the retailer directly for assistance. Received something faulty from a retailer? Please email us at support@freeriderco.com
Faulty Product
In the very rare occasion there is a problem with your items, please let us know by emailing support@freeriderco.com